Gasthof Krone in Kappl …
Our country guesthouse is located in the centre of the village of Kappl.The nearest bus stop - right by the church - is just a three-minute walk away.
Cosy… You can relax in the warmth of a traditional tiled stove in the cosy atmosphere of one of our wood-panelled farmhouse parlours.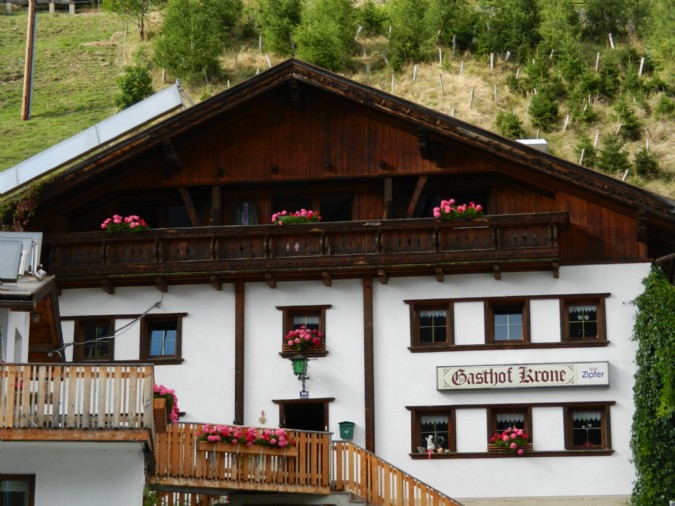 The Krone in Kappl – Guesthouse with delicious vegetarian food…
We pamper you with the fine vegetarian food on our breakfast buffet!
The rooms in our Guesthouse… Our "homely" rooms are light and friendly and are all equipped with an attractive shower, Toilet, hair dryer, Sat-TV, WiFi (for a fee) and some have south-facing balconies.Perfect for resting and relaxing in a cosy atmosphere after a wonderful day out!
Our region… The Paznaun valley lies to the extreme south-west of Tyrol tucked away between breathtaking mountains reaching up to 3000 meters in height from whose tops you can see across to Switzerland, St. Anton and Montafon.The main villages in the valley are See, Kappl, Ischgl and Galtür, each with its own individual character.Our ski region and our romantic mountain world is unique !
Winter and summer… The winter with its bizarre snow-covered mountains, its deep blue sky so close you can almost reach out and touch it is just as impressive as the summer season in this high mountain region!This time of year offers a sweeping eagle-perspective view over the magnificent mountain meadows with their mass of fragrant Alpine flora and herbs.Equally noble are the ibex, marmots and chamois that lucky hikers can sometimes catch a glimpse of.
For bikers… Unique experiences await you in the middle of a breath-taking mountain world with its superb panorama...Motorbike enthusiasts long ago detected our region as insider tip.Countless mountain passes and sweeping bends make the heart of every biker beat faster!
Feel the joy of life and vitality … Our Gasthof Krone offers you the chance to do just this.We look forward to your visit - both in winter and in summer!Just give us a call or use our enquiry form.
Delight in the sunshine in Kappl, Gasthof Krone…